Since moving to the new domain ****@mmvic.org.au for email communication we have received a number of complaints indicating that our emails are being received in Junk/Spam folders. In case you are using Gmail, please monitor the Social/Promotions folders as well. We request that you continue to monitor these folders frequently for our emails. If you find our emails in Junk/Spam folders, manually move them to your Inbox folder. Once you have moved the email manually, your email provider will whitelist our emails and you should no longer receive them in your Junk/Spam folders from there on.
We thank you for your patience and apologise for any inconvenience this may cause.
Gudhi Padwa 2017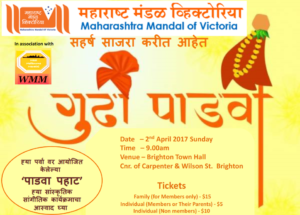 महाराष्ट्र मंडळ आपल्या सर्वांना मराठी नूतन वर्षानिमित्त हार्दिक शुभेछया देत, नवीन वर्षाच्या प्रित्यर्थ आयोजित केलेल्या 
"पाडवा २०१७" 
ह्या कार्क्रमासाठी आमंत्रित करीत आहेत.
Sunday, 2nd April 2017 from 8:30 AM
Brighton Town Hall,
Cnr Carpenter St and Wilson St, Brighton, VIC
Tickets are no longer on sale for this program.
Holi/Rangapanchami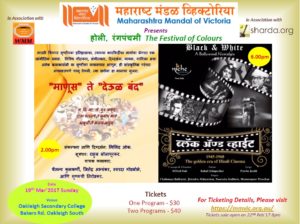 Two fantastic back to back programs by Niche Entertainment. माणुस ते देउळ बंद (मराठी) followed by Black and White – A Bollywood Nostalgia (Hindi).
Sunday, 19th March 2017.
माणुस ते देउळ बंद (मराठी) – 2:00 PM – 4:30 PM
Black and White (Hindi) – 6:00 PM – 8:30 PM
Food Included in the ticket price.
Tickets are no longer on sale for this program.
2017 Programs calendar
The 2017 programs calendar has been announced. Make sure you keep these dates free or you are going to miss out on all the fun!
MMVIC AGM 2017
The MMVIC AGM was held on 19 Feb 2017 and a new management committee is now constituted. You will recognize most of the faces!
We would like to thank Makarand Bhagwat for his efforts. We also say goodbye to Arun Patil and Girija Shawarikar.
Appeal for Riaa Kulkarni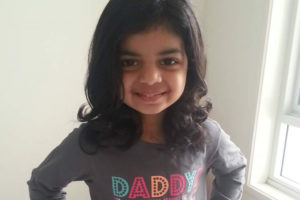 As you may know, one of our own little girl Riaa (Age 6) daughter of Mr & Mrs Vivek Kulkarni from Melbourne, has been diagnosed with DIPG, one of the rarest and worst brain tumour with no cure. This has a worst prognosis and radiation is the only therapy offered by Melbourne Doctors.
Let us as a Marathi community, help on of our own.
Committee reports
For privacy reasons, treasurer reports will not be available online.