Yuva 2017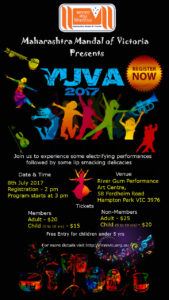 YUVA is back again this year with few new faces, new talent and a variety of entertainment.
So join us and encourage our youth in their endeavour.
Don't forget to watch the teaser!
Saturday, 8th July 2017 from 2:00 PM
River Gum Performance Arts Centre
58 Fordhold Road,
Hampton Park. VIC 3976
Tickets
| Members | Non-Members |
| --- | --- |
| Adults – $20 | Adults – $25 |
| Child (age 5 to 18) – $15 | Child (age 5 to 18) – $20 |
Children under 5 attend for free but a separate seat will not be allocated to them.
स्वातंत्र्यवीर सावरकर – एक झंझावात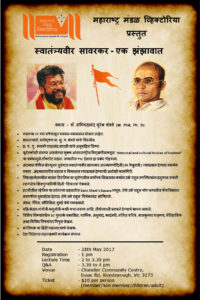 With great pleasure, we would like to invite you all to attend a lecture by Dr. Sachidanand Shevde, eminent thinker, speaker, writer and columnist from Maharashtra.
He has graciously accepted our invitation to enlighten us with his deep study on Swatantryaveer Savarkar through the subject "स्वातंत्र्यवीर सावरकर – एक झंझावात".
This is a rare occasion that we will be able to listen to a profound scholar who has written 41 books, delivered more than 4000 lectures and who is a recipient of  व्यासरत्न पुरस्कार.
Gudhi Padwa 2017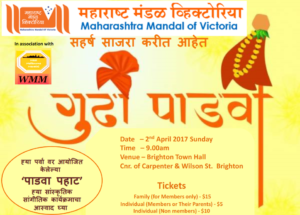 महाराष्ट्र मंडळ आपल्या सर्वांना मराठी नूतन वर्षानिमित्त हार्दिक शुभेछया देत, नवीन वर्षाच्या प्रित्यर्थ आयोजित केलेल्या "पाडवा २०१७" ह्या कार्क्रमासाठी आमंत्रित करीत आहेत.
Holi/Rangapanchami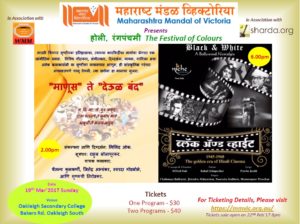 Two fantastic back to back programs by Niche Entertainment. माणुस ते देउळ बंद (मराठी) followed by Black and White – A Bollywood Nostalgia (Hindi).
2017 Programs calendar
The 2017 programs calendar has been announced. Make sure you keep these dates free or you are going to miss out on all the fun!
MMVIC AGM 2017
The MMVIC AGM was held on 19 Feb 2017 and a new management committee is now constituted. You will recognize most of the faces!
We would like to thank Makarand Bhagwat for his efforts. We also say goodbye to Arun Patil and Girija Shawarikar.
Hitguj 2016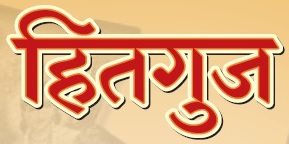 Diwali Hitguj edition has been released and an e-copy is now available.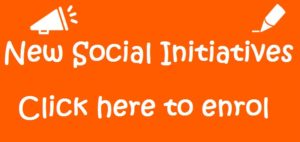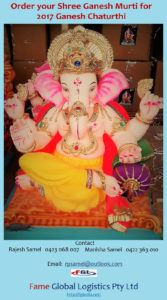 Our sponsors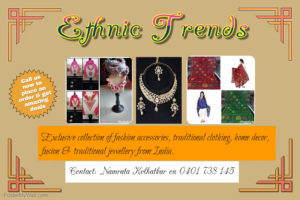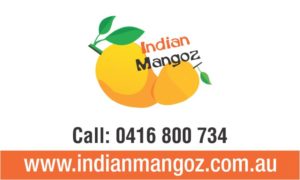 Committee reports
For privacy reasons, treasurer reports will not be available online but can be requested by emailing secretary@mmvic.org.au.