2018 Annual General Meeting
Come along and show your support for our Mandal. A new committee will be formed and a brief summary of what we did last year will be given. This is a very good opportunity for all of you to voice your concerns and let us know what you expect from the Mandal.
Details of the meeting as below:
Date: Sunday, 25 February 2018
Time: 9:30am to 11:30am
Venue: Knox Gardens Community Hall, 56 Argyle Way, Wantirna South VIC 3152
"आम्ही दोघी" Movie Screening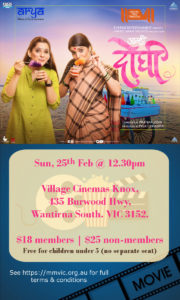 When motherless Savi, at the age of 16, is introduced by her father, Appa, to his new 25 year old wife, she doesn't display any emotion except curiosity as to how to address her. Her father's wife is called Ammi. Having been trained to be unemotional and practical since early childhood, Savi , like Appa, is dismissive of 'emotional fools'. This learning leads her to live a life of independence and also results in the loss of her love, because she doesn't want to bow to the rules of society.
It is her illiterate step-mother, who has been dependant on others for all the major decisions of her life, who makes her realize that being emotional is not foolish, that if she is independent, so should her emotions be. When a dry, practical Savi, suddenly finds this different point of view of Life and the World, she is suddenly every one of us, at some time in our lives.
And, that connect with each member in the audience is what makes आम्ही दोघी a sensitive, engaging story.
Showtime: Sunday, 25 February 2017, 12:30pm sharp!
Venue: Village Cinemas Knox, 435 Burwood Hwy, Wantirna South. VIC 3152.
Tickets: $18 (members), $25 (non-members)
Terms & Conditions
Children below five years of age are not required to buy a ticket however there will be no separate seat allocated.
The tickets are allocated on first come first serve basis. The seat allocation will be communicated by email.
The film will start at 12:30 pm sharp. Patrons are requested to be at the venue by 12:10 pm.
The tickets are non refundable and non transferable.
The film is registered as an event with the classifications branch of Australian Government and is exempt from classification. The film is suitable for children.
"चला हवा येऊ द्या" exclusively in Melbourne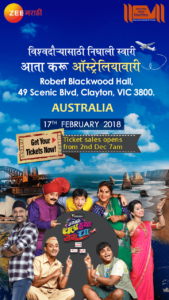 – Jana Garjana Dhol Pathak
One of the most popular Indian Television Marathi show with its huge TRP rating is coming to Melbourne !!!
This show will be held exclusively in Melbourne in Australia.
Date: Saturday, 17th February 2018, 2 to 6pm
Venue: Robert Blackwood Hall, 49 Scenic Blvd, Clayton. VIC 3800.
Concessional ticket rates apply for MMVIC 2018 paid members.
| Category | MMVIC 2018 paid members | Non members |
| --- | --- | --- |
| Platinum – Meet & Greet | $140 | $160 |
| Platinum | $90 | $110 |
| Gold | $70 | $90 |
| Silver | $55 | $75 |
| Bronze | $40 | $60 |
Announcements archive
New services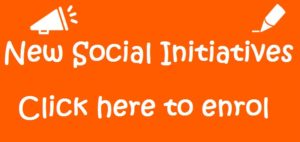 Our sponsors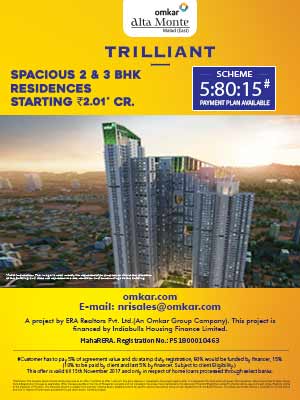 Store powered by: