May 26, 2018 1:00 pm
River Gum Performing Arts Theatre, 58 - 96 Fordholm Road, Hampton Park, VIC 3976
[one_half][responsive]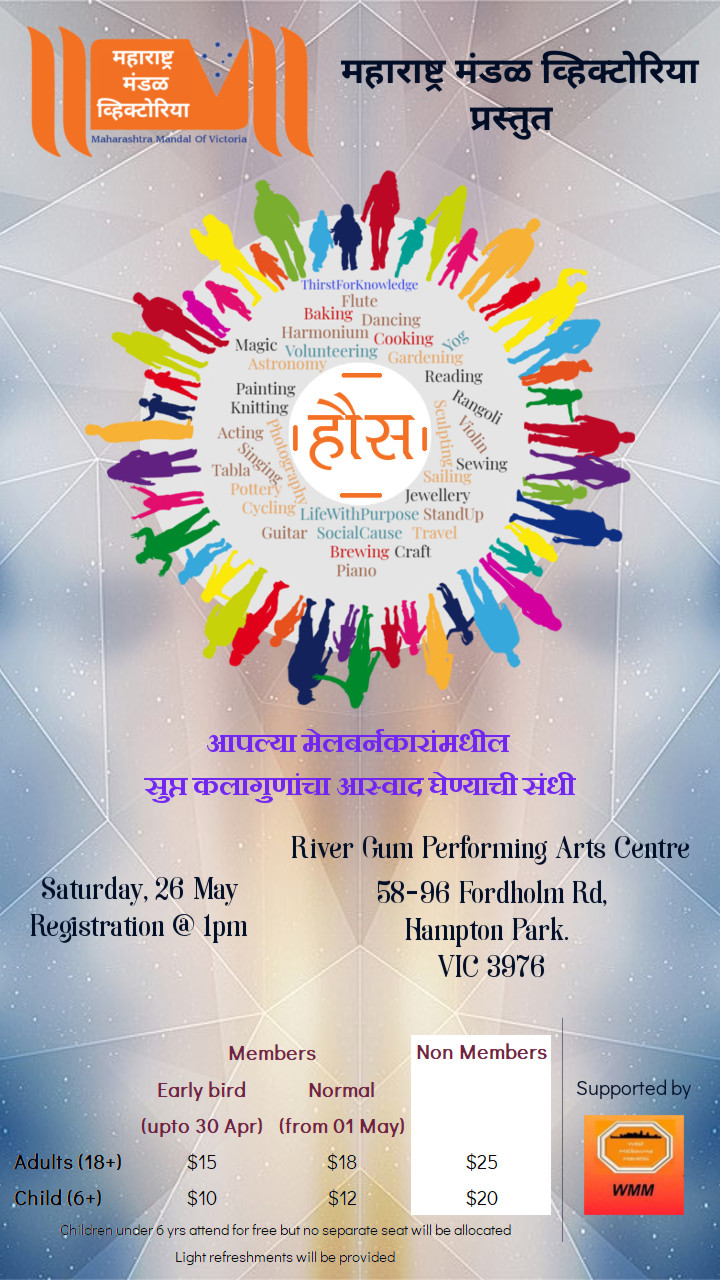 [/responsive][/one_half] [one_half_last]
आतापर्यंत आपल्याला कळले असेलच की 'हौस' (Haus) हा नूतन कार्यक्रम आपल्यातील सुप्त गुणांना साद घालतो आहे. महाराष्ट्र (Maharashtra) दिनानिमित्त आयोजित या हौस नावाच्या आगळ्या वेगळ्या कार्यक्रमात आपणासर्वांचा सहकुटुंब सहभाग असावा.
For more details about Haus 2018 please click here.
To avail special Member only discount please log in by Clicking here and then following the prompts.
If you are not a MMVIC member yet, please purchase the MMVIC membership before buying Haus 2018 tickets  to receive Member only discount.
Please Note:
Kids under 5 years of age are free but should not choose separate seats.
If you opt in for Bank Transfer as your payment method then you need to transfer full funds as soon as possible.

If we do not receive full payment within 48 hours then your booking will be automatically cancelled and seats will be released for other members.
When:
Saturday, 26th May 2018
Registration – 1:00 pm
कला प्रदर्शन / हौसेचे दालन (in exhibition hall) – 1:00 pm to 2:00 pm
हौस कार्यक्रम – 2:00 pm to 5:30 pm
Snack/light food – 5:30 pm to 6:30 pm
Where:
River Gum Performing Arts Theatre, 58 – 96 Fordholm Road, Hampton Park, VIC 3976
[/one_half_last]